Hello, Universe! What's new? Well, I can tell you what's new! I've updated my about page. Click that link up at the top to check it out, if that stuff interests you. My last about page didn't have much about me, but this one has a bit more.
Onto today's prosperity game! So, I already bought the Segway, jetskis, ATVs, cars, truck, and the RV. I won't be buying more vehicles for a while now unless it's for one of my nieces & nephews – of which only one of them has their drivers license since the rest aren't old enough yet.
Soooo… what now? I've got $36,000 to spend.
I don't think I've bought a new digital camera yet during the time I've played this game. I really would like a digital SLR. I did some SLR photography in 6th grade and took a class in college and loved it both times! There have been digital SLRs available for a while now, so that'd be great not to have to develop pictures in the darkroom (even though the darkroom parts are fun too).
This might be a bit overkill, but I'd get this camera – the Hasselblad H3D-39II.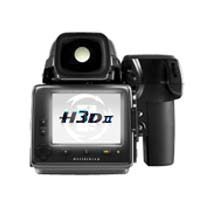 I'd also get the wide angle lens for it.

And I'd get a case for it: